description
Coming from Prio (about 600 m), along the provincial road of Predaia, just before the junction for Dardine (about 100m), take to the right – in a slight uphill – an asphalted road.
Going left, after about 400 m flat, you enter the woods. From here, following a dirt road, the trail continues for woods and meadows with remarkable panoramic views of the low and medium Val di Non and the ancient church of San Eusebio in Torra (documented for the first time in the thirteenth century, according to the legend already existing from the time of evangelization of the Anaunia promoted by San Vigilio (4th century AD) and rebuilt due to the numerous fires and its aging in 1624).
After about 1.5 km you cross the Rio Panarota (possibility to get off at Torra for a comfortable trail – 600m). Continuing for a forest road through the pine forests of Cirò you reach the Vion countryside and then the village near the church of San Sigismondo, remembered for the first time in the pastoral visit of 1537.
From the square of Vion, right on the street asphalted northward through the orchards of the "bonifica" up to the picnic area (about 1 km); turn right and continue for a comfortable forest trail until you reach the provincial road of Predaia.
Il castello è una residenza privata e non è visitabile.
history and culture
Castel Bragher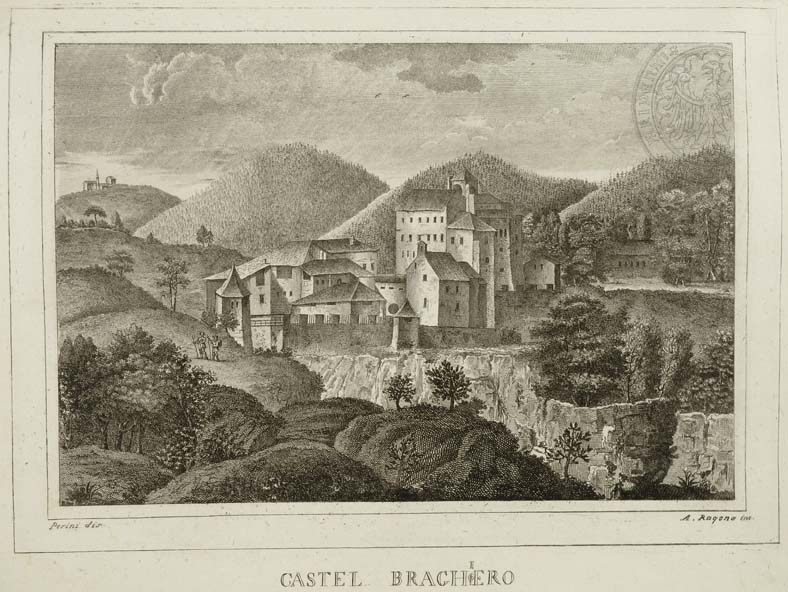 Extremely conserved and singular due to the presence of two cylindrical towers facing the road, the medieval nucleus of Castel Bragher was built in the middle of the 13th century by Bragherio di Coredo. Shortly thereafter, the gentlemen of Tono (Thun) took possession of it and expanded it and completed it in the sixteenth and seventeenth centuries, when it assumed the present architectural form. With the Romanesque fortified tower, the communal palace with its open loggia, the Gothic chapel of San Celestino, the medieval tower guarding the bridge built on the ravine and the crenellated walls, the monumental complex of Bragher is one of the most impressive of the Alpine arc.
The castle can not be visited because it is a private residence.