description
From Coredo:
A pleasant trekking through the unpolluted forests to arrive at the sanctuary of San Romedio, starting from the village of Coredo, continuing to the lakes of Coredo and Tavon, and after drifting them, continuing down to dos Canestrin along a small valley where the Verdés river runs, you will arrive directly at the foot of the sanctuary of San Romedio.
Starting from Sanzeno:
from the town square go up to the white church of Santa Maria,and then enters the forest trail until you reach the branch for the Rhaetian Museum. Continue through the countryside until you reach a suggestive walk that winds through the rock formed by a nineteenth-century irrigation canal. The trail ends just before the rocky spur where the Sanctuary of San Romedio rises majestically.
From Sette Larici Locality
non-demanding trekking from the Sette Larici Village through forest roads in the beautiful site of Community importance "Valle del Verdès" IT 3120144, crossed by Verdés river characterized by the presence of white spruce woods. Along the valley the ruins of the ancient water mills are still visible.
history and culture
Santuario di San Romedio*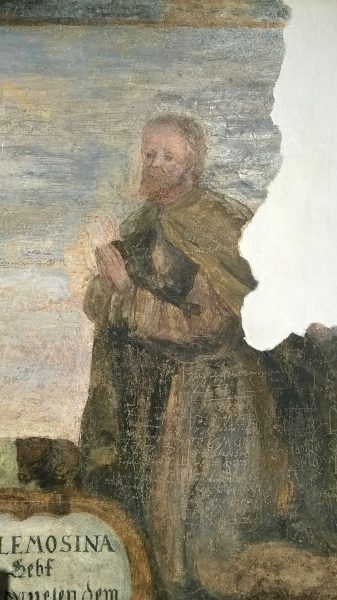 In one of his "pictorial journeys", which took place between 1802 and 1811 in search of picturesque places to be captured on the canvas, the landscape painter Pietro Marchioretto (1761- 1828) also lands in the medieval sanctuary of San Romedio, for centuries popular destination for devout pilgrims and curious travelers.
In the view, with a painting made in place, the author gives us a glimpse of the steep access road. The hermitage, made up of five chapels and other buildings of different ages, appears clinging to the highest cliff, surrounded by rocky scarps covered by centuries-old forests, among which the water stream flows, and immersed in a sky clear. "Even without being romantic," wrote Simone Weber in 1938, "there is no way to escape the poetry of this deeply evocative place full of history, faith and peace, with the whisper of the creek that lays the road."